At Sandler, We Are All About Process.
Through our relationships with thousands of organizations, we have found that the ones who outperform expectations have a striking similarity. Their leadership has a process around, and excels at, decision-making. They know that when making a big decision, it's imperative to seek out many different view points – especially opposing ones. Those leaders who only surround themselves with like-minded team members, inevitably have "blind spots". This is one of the most serious obstacles to rapid revenue growth.
That's why there's no surprise that we created a leadership growth model to overcome leadership blind spots. The process, has been tested and proven in multiple industries, revolves around 6 P's and has an overarching goal of Organizational Excellence.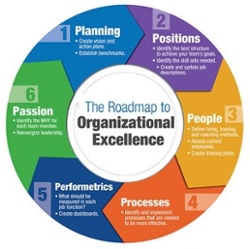 Planning

Position

People

Processes

Performetrics

Passion
These sequential components create a continuous, repeatable process that will drive your company to long term stability and success.