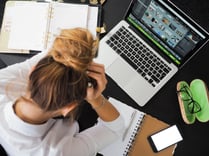 If you're like most salespeople, you may be:
Stressed over prospecting and avoiding cold and warm calls.

Concerned about new business numbers and constantly feeding the funnel.

Worried about a revenue plateau or shrinking market share.

Unsure how to leverage your LinkedIn to pre-qualify and connect with prospects

Unable to to continuously fill the pipeline with quality leads and opps
Well we are here to tell you that there is a stress-free way to prospect AND predictable prospecting results are not a myth!